We are excited to add this bull to our herd – purchased at the recent Merridale Angus Sale – the top price bull, Merridale Rowell R134 for $50,000.
Lot 6, Merridale Rowell R134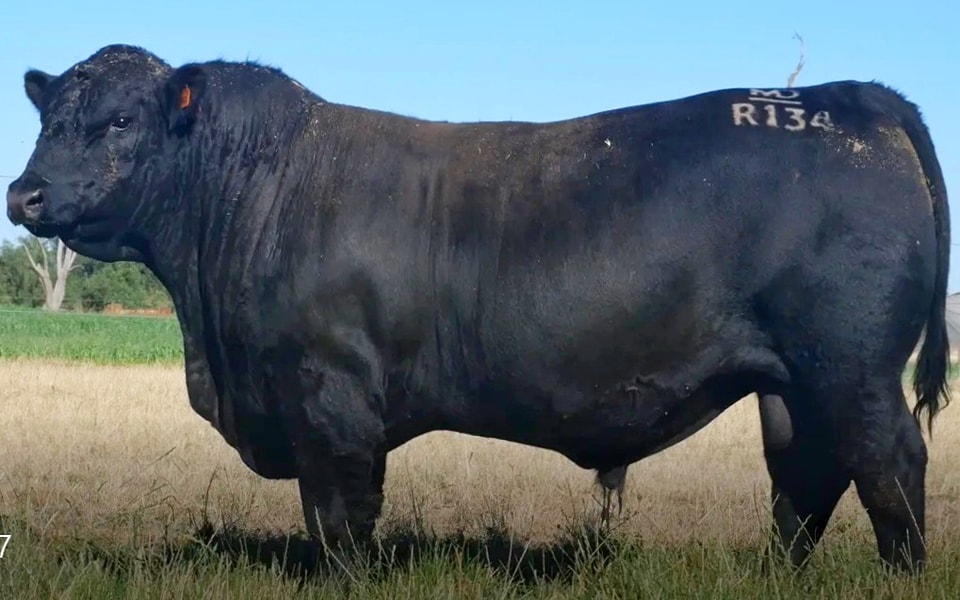 Article by Stock&Land, March 4, 2022 – link
A NSW stud has spent big at Merridale Angus stud's on-property sale, securing the top-priced lot of the day.
It was the first time this stud had ever purchased from Merridale, and the bull was bought sight unseen, with the buyer relying on figures and visual appraisals from friends who could attend.
The-top priced bull was Lot 6, Merridale Rowell R134, who was bought for $50,000 by Herb Duddy, Sara Park Angus, Glen Innes, NSW.
Mr Duddy said despite not seeing the bull in person himself, he was a "powerful bull".
"He's got good eye muscle area (+10.8) and fat cover," he said.
"And it's rare to get a bigger fat cover on the rump than rib."
He also commended the bull's dam – Merridale Vicky D55 – who had a solid impact on the sale, with the six bulls by her in the catalogue averaging $25,333.
He said he was "determined" to place the final bid on Lot 6, a bull he believed would bring "something different" to his herd.
It was the highest amount Mr Duddy had ever spent on a bull, and he said he was looking forward to getting the bull home to join to specially-selected females later in the year, to breed bulls for his own bull sale, which was held annually in July.
Lot 6's estimated breeding values included +6.3 birth weight, +46 200-day weight, +80 400-day weight, +102 600-day weight, and an intramuscular fat of +1.9.