SARA Park Angus rewrote its history books during the stud's 20th annual on-property bull sale at Glen Innes last Friday, reaching a stud record top price of $35,000 and stud record average of $16,417.
Article by the Land, 3 Aug 2021 – link to article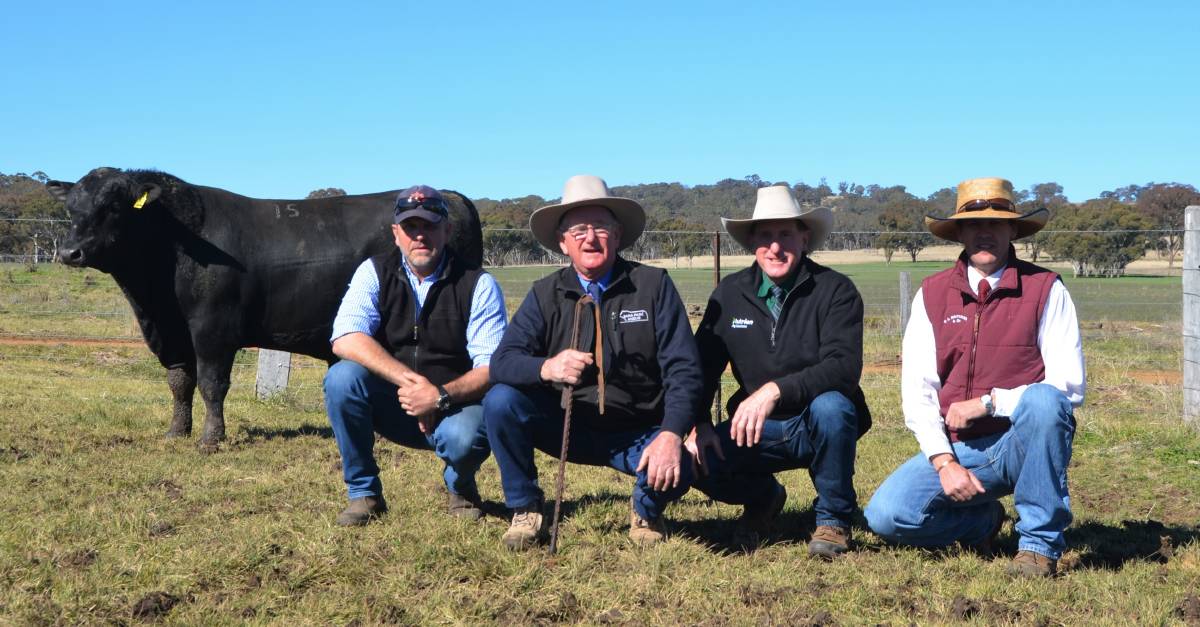 The Duddy family achieved a full clearance of their increased offering of 36 bulls; results that were significantly up on the 2020 stats of 28 bulls sold for a $7166 average and top price of $11,000.
Raised on an oat crop, the bulls were well received by repeat clients along with numerous new buyers, according to Herb Duddy of Sara Park.
Knocked down for the top money of $35,000 to Brent Berrick of Blair Hill Station, Glen Innes, Sara Park Moe Q36 was the sale-topping bull that turned heads for his suitability to be used over heifers, softness and good skin and hair type.
Out of Sara Park Nightcap Ivory K20, a Connealy Consensus 7229 daughter, and sired by Chiltern Park Moe M6, he weighed 878 kilograms as a two-year-old with an eye muscle area (EMA) of 127 square centimetres, a scrotal circumference of 40cm, rump and rib fats of 16 millimetres and 9mm and intramuscular fat (IMF) of 6.7 per cent.
Return buyers to Sara Park, Mr Berrick will use the bull over replacement Angus heifers.
The vendors thought as highly of Moe Q36, using the bull over stud cows and heifers prior to the sale.
"He was structurally correct, and offered a different outcross bloodline to us," Mr Duddy said.
Sara Park Qwamar Q112 was the second top-priced bull that was snapped up for $26,000 by Michael Smith, Woodenbong near the Queensland border.
The youngest bull in the catalogue at 21 months of age, Qwamar Q112 was sired by Kidman Connect L74 and out of Sara Park Lowan J138. He tipped the scales at 806kg with measurements of 11mm and 8mm for rump and rib fats, 126 sq cm for EMA, 5.5pc IMF and 40 centimetres for scrotal circumference.
Ten bulls sold for over $20,000, including six sons of the popular sire Baldridge Beast Mode B074 that averaged $21,833.
The most prolific buyer was CQ Pastoral at Grafton that bought four for a $12,250 average.
Taking home three bulls were Merristone Pastoral Co, Bundara that bid to a top of $23,000 and averaged $18,000 across its draft, and Marcus Laurie, Hillgrove via Armidale who also bought three via Elite Livestock Auctions for a top of $18,000, to average $15,333.